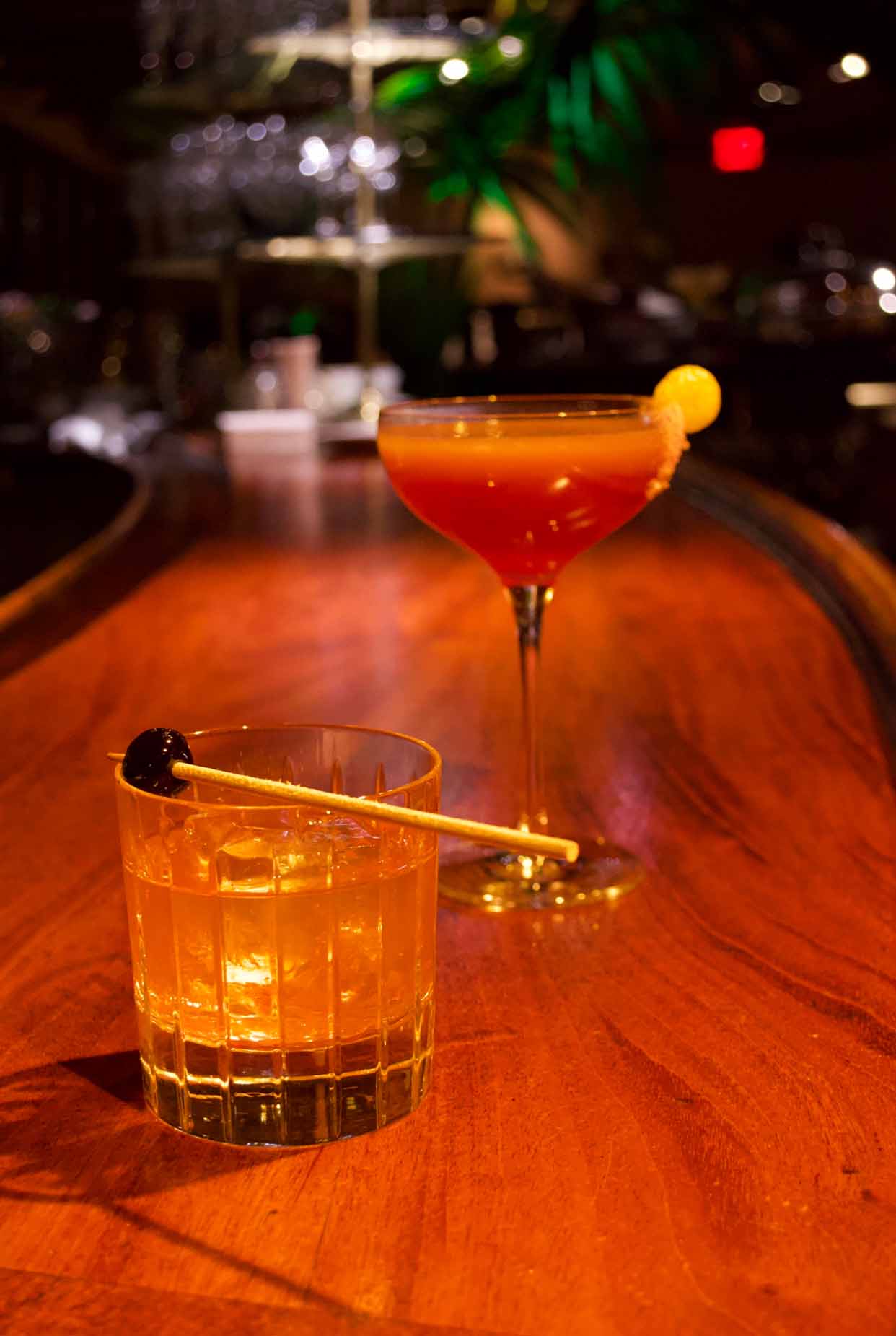 Our intimate cocktail bar is nestled under the Brooklyn Bridge.
Below you the river flows idly by. In the distance looms the Manhattan skyline. In the foreground, our skilled cocktail craftsmen buzz quietly about the bar.  
At the nexus of skilled mixology and fine hospitality, the Cocktail Bar at the River Café is an experience unique to our city. 
Under the guidance of our bar captain, Jake Satterfield, we offer timeless cocktails made with a state of the art attention to detail. Every ingredient is mindfully sourced and seasonally inspired, with a special eye for New York producers. 
Classic Bar
With a world-class kitchen at our disposal, our bar team is constantly preparing a wide array of hand-made cordials, syrups, and elixirs under the watchful eye of our masterful executive chef and pastry team. This coordinated effort has established a satisfying continuity between our food and beverage programs, further deepening our guests' experience at the café.
As a bar truly in and of New York City, we are purveyors of an impressive list of local spirits. While you have a taste of the city's finest distilleries and breweries, let the piano transport you to a dreamlike oasis drifting apart from the cacophony of the bustling city streets.
Sip on an elegant and harmonious gin martini with a lemon twist. Watch as a bartender jiggers every balanced drop of our house Manhattan to perfection. Try an antique daiquiri with a blend of vintage rums. Perhaps you'll enjoy a creamy Madeira flip for dessert. Maybe you'd rather try a neat glass of our hand-selected single barrel New York Rye, distilled and aged by NY Distilling Co. here in Brooklyn. 
If you'd like to take a step back and forego an alcoholic drink, let one of our zero-proof cocktail selections guide you through your night without the buzz. Our house favorite is a honeyed lavender and grapefruit fizz. 
Our bartenders love a good challenge, so feel free to collaborate with us to tailor a bespoke cocktail to your tastes and specifications.
SPECIALTY COCKTAILS
Pommeau & Tonic
Neversink New York Apple Aperitif, tonic water, nutmeg
A View of Manhattan
The River Café x New York Distilling Co. hand-selected barrel of Brooklyn Rye, Malmsey Madeira, Forthave Marseille Amaro
French '77
Perry's Tot Navy Strength Gin, lavender-infused Hudson Valley honey, lemon, butterfly flower tea, egg white
El Zapatero
Legendario Domingo Espadín Mezcal, Paranubes Oaxacan Rum, Empirical Spirits Ayuuk, tangerine, white pepper
Cassini
A blend of light and dark rums, sesame orgeat, cinnamon, passion fruit, JM Shrubb, Nardini Rabarbaro, Kapriol Classico
RIVER CAFÉ CLASSICS
Stonefruit Sour
Gristmill's Bourbon, Heimat Nectarine, plum kernel distillate, Amaretto, lemon, egg white
Gibson
Bimini Barrel Gin, Åhus Midvinter Akvavit, Dolin Vermouth Blanc, Laurent Cazottes Quince Wine, house-brined pearl onion
Vesper
Dorothy Parker Gin, Maid of the Meadow honey vodka, Forthave Génépi; shaken
Sidecar
Cobrafire "Evil Force" Armagnac, dry Curaçao, lemon, demerara sugar
Apple Martini
Green apple cordial, Pineau de Charentes, Soka sorghum spirit, cardamom
Grasshopper
Pierre Ferrand "1840" cognac, Fernet Branca, Branca Menta, mint, cacao, cream
River Café Irish Coffee
Coffee, Irish whiskey, whipped Cream, orange zest
Madeira Flip
Rainwater Madeira, Reposado Tequila, hazelnut, egg
COGNAC

Hennessy VS
Hennessy XO
Hine Antique XO
Delamain Pale & Dry XO
Pierre Ferrand "1840"
Courvoisier XO Impérial
Remy Martin VSOP
Marcel Ragnaud – Grande Reserve Frontruille

BRANDY
Domaine de la Romanée Conti – 1992
CALVADOS
Busneys Pays d'Auge VSOP
APERITIFS – DIGESTIFS
AND HERBAL LIQUERS
Forthave "Marseille" Amaro
Forthave "TWO" Single Batch Amaro
St. Agrestis Amaro
Fernet Branca
Branca Menta
Amaro Nardini